BlueKanGo Canada winner of the IT Awards in Health and Social Services
Our subsidiary, BlueKanGo Canada, was among the finalists of the second edition of the Health and Social Services IT Awards Gala held on Thursday, November 4th 2021, in Montreal.
As part of the Healthcare Informatics Conference, the aim of this event was to reward the Quebecois players who instigated major innovations in Information Technology (IT) in the Healthcare sector.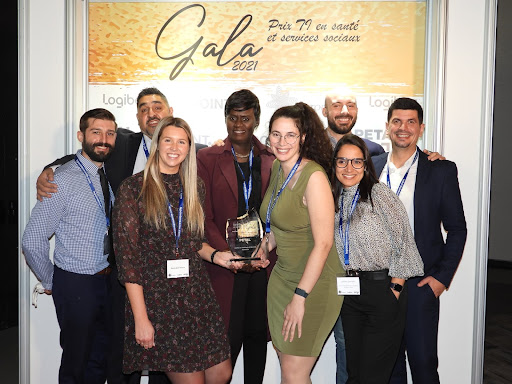 BlueKanGo Canada is honored to have won the Innovative Healthcare Facility Award along with the Montreal Heart Institute.
BlueKango won this distinction thanks to the digitalization project deployed at the Montreal Heart Institute: The steps of reception, orientation and probation processes of the beneficiary attendants have been digitized.
Informations are transmitted in real time, directly connected to the beneficiary attendants schedules and accessible to all parties involved. This innovation has resulted in considerable efficiency and time savings for this healthcare facility, in addition to an improvement of employee retention.
Following its success, the digitalization project is now in the deployment phase for the Montreal Heart Institute nursing staff.