BlueKanGo and ESC publish a Quality and EHS digitization guide for Singapore
Companies are undergoing technological transformation on a global scale. Both MNCs and SMEs use digitization of business processes as a lever to increase their productivity. This helps them overcome manpower shortages, lower their operating costs and boost their revenue growth. Just as they digitize HR, Marketing and administrative processes by using ERP, CRM and HRM systems, it is equally important for companies to digitize their EHS (Environment, Health and Safety) and Quality processes.
The free guide includes several very interesting topics such as:
Digitizing your company: what does it mean?
Digitization solutions: examples and recommendations
Requirements for future success
Digital Transformation is implicit in ISO standards
Risk Management: beyond analysis methods
If you think that your company is ready to get rid of Spreadsheet- or paper-based Quality and EHS Management systems, these topics will give you important insights for digitizing your processes.
BlueKanGo's digitization experts have worked together with our Singaporean partner ESC to come up with this 34-page guide that will enable Quality and EHS managers and directors to learn more about digitization.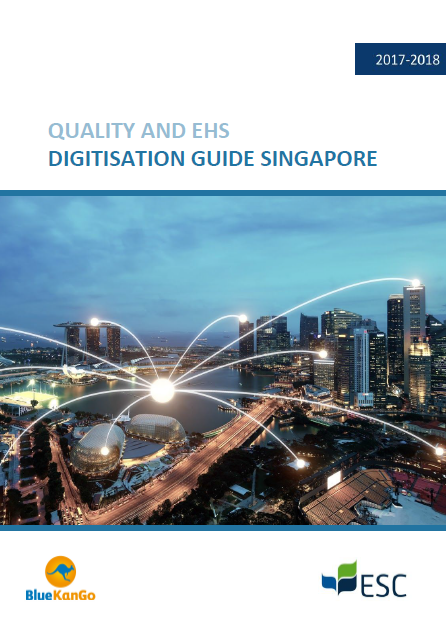 Already at hand in French, BlueKanGo has recently made the Quality and EHS digitization guide for Singapore available on its website. A free download that will definitely benefit your company.